Echoes
12th International Triennial - Competition of Stringed Instrument Making Cremona 2009
On the 12th Triennial, Competition of Stringed Instrument Making, held in Cremona - Italy, from September 25 to October 11 2009., Stevan Rakić's violin was ranked 24th out of 198 instruments overall and it has taken the 19th place in tonal competition.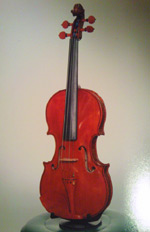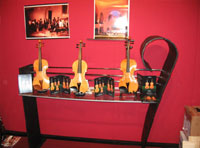 ---
"Cremona Mondomusica 2008"
As of October 3rd to 5th 2008. Stevan Rakić was a participant of the International Festival-Fair in Cremona, Italy where he presented his latest made instruments, three violins and cello. As the world's largest festival of stringed instrument makers, Cremona provides an opportunity to compare quality and the way to affirm violinmaking in this region.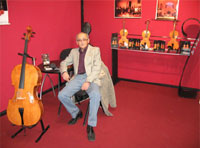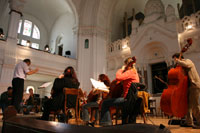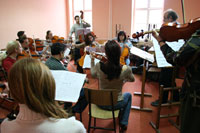 ---
On October 31st 2005., in Novi Sad Synagogue a concert for stringed instruments "In honor of the instrument 2005" was held to mark 150 years of violinmaking in Vojvodina and the fifteenth anniversary of Stevan Rakić, Novi Sad as a maker of stringed instruments. This evening of chamber music for strings, with a special occasion, had another unusual feature - all the musicians who performed that evening in the Synagogue, had instruments made by Rakić. With a number of earlier-made instruments - violins, violas and cellos, at this recital, a new, specially made​set of instruments for string quartet was presented.

The concert featured the Chamber String Orchestra conducted under the guidance of Ninoslav Petronje, TAJJ String Quartet and soloists, violinists Irina Jašvili, Mihal Budinski, Alma Popović - Drozdik and violinist Dušica Polovina.

String Quartet TAJJ performed the world premiere act of Aleksandra Vrebalov, one of the leading young composers in the world.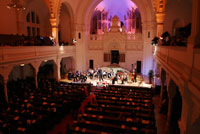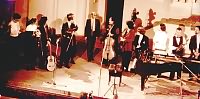 ---
The anniversary concert "In honor of the instrument" - 2000.
To mark the tenth anniversary of Stevan Rakić's work, on November 16th 2000. in Novi Sad Synagogue a concert "In honor of the instrument" was held, where some of the leading soloists of Novi Sad performed, as well as young performers, who played on Stevan Rakić's instruments. Among others, in concert performed violinist Imre Lakatoš, a professor of the Academy of Arts and concertmaster at the Opera Orchestra of the SNP, professor of guitar at the Academy of Arts Zoran Krajišnik, violinist Dušica Polovina, cellist Timea Kalmar, violinist Mihal Budinski and others.

With these eminent soloists, in the program has participated and professor at the Academy of Arts Laslo Horvat, who spoke on the effect of Stevan Rakić and instruments that he made, and also the participants of the program were music critics Jovanka Stepanović and Borislav Hložan. As indicated by the title of the program, it was a unique unusual musical event, where in in the forefront were instruments and their maker. The concert was very successful, it has been very well received by the audience, and recorded by the Television of Novi Sad.
Concert program:

P. Sarasate: Romansa andaluza,
Dragana Milošević, violin
Accompanist: Nikola Marković

F. Tarega: Grand valse
Nemanja Radivojević, guitar

N. Paganini: Kantabile
Momčilo Matić, violin
Accompanist: Milica Matić

Skvajer: Tarantela
Timea Kalmar, cello
Accompanist: Eleonora Mali

A. Dvoržak: Sonatina in G Major
Mihal Budinski, violin
Accompanist: Ivana Karajkov Andrić

Ž. Enesku: Elegija
Dušica Polovina, viola
Accompanist: Marija Đarmati

J.S.Bah: Fuga A Minor
Zoran Krajišnik, guitar

F.Šubert: Sonatina
Imre Lakatoš, violin
Accompanist: Eleonora Mali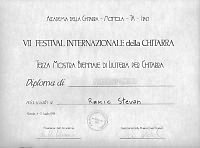 ---
Motola - Italy, 1998
At the International Competition for Guitar in Motola, Italy, the jury presided by the English top guitarist David Russell, awarded a diploma to Rakić's guitar.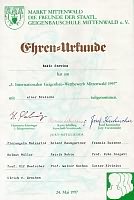 ---
Mittenwald - Germany, 1997
In 1997, at the International Music Festival in Mittenwald, Germany, Rakić's viola was ranked among the forty best violas in a tough competition of builders from around the world.